SCENAR THERAPY TECHNIQUES FOR FREQUENTLY ILL CHILDREN
17 August 2017 - 02:36 PM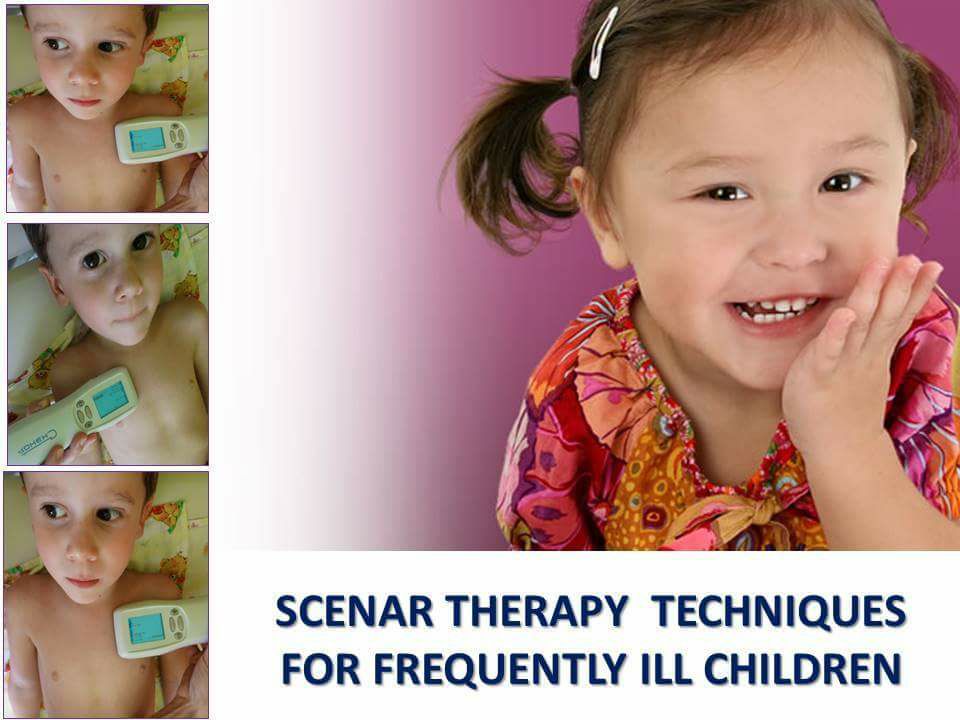 Many investigations of the immunity status in infirm children evidenced that frequently ill children have no actual immune deficiency but the temporary functional insufficiency of the immunity increasing their susceptibility to infection,.
At the The European Conference on SCENAR Therapy, totally, 91 children aged from 3 weeks and up to 17 years applied.
Among them, 73 children (80%) claimed for frequent diseases of the respiratory tract. The age of this group of children was from 1.5 up to 7 years.
Our strategic objective with this group of patients is to restore the damaged immunity.
We examine all the immunocomponent organs with SCENAR within the first session: the thymus, liver, intestinal tract, adrenal glands.
We should determine where the immunity tension is the highest in the child at this time.
Method of Thymus Examination in SDM
We treat the thymus projection along the general vector in the basic mode of SCENAR at the comfortable power.
At that, we usually observe clear signs of the small asymmetry in the absolute majority of children that evidence the tension in this organ
We examine the thymus gland in the SDM, determining the initial parameters asymmetry above the projection of the thymus gland.
Similarly we examine the stomach.
In our group of children we often identify areas of low or high asymmetry values of the initial indicators IR above liver and small intestine.
We certainly explore the 'three pathways, six points' (3P6P) area.
This allows us not only to influence the overall regulation of the body, but also to identify 'dormant problems', to evaluate the energy of the child and to plan our future tactics.
Method of Complex Stimulation of the Nose Mucosa and Regional Lymphatic System
Method of Sinuses Stimulation
Method of Stimulation of Regional Lymphatic System
Method of Stimulation of Various Ear Parts
"Herring Bone – the universal classic method
All the children were treated according to "Christmas tree" scheme.
We usually combine different modes of SCENAR, frequencies, modulations, remote electrodes within a session. We stimulate various local areas and general stimulation areas under the classic principles of the SCENAR therapy.
- Dr. T.Kidun MD ( RU) Dr. C. Nikitin MD ( RU)